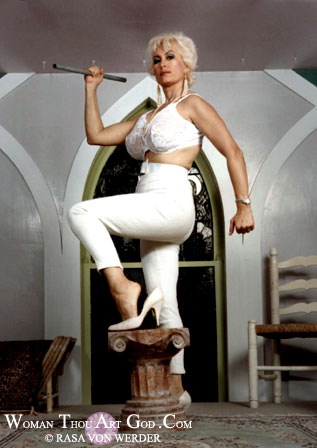 Rasa Von Werder
"Female domination for male pleasure vs. the authentic Matriarchal movement, - what is the difference?"
From Rasa Von Werder
Nov. 1, 2011
Aha, "we need to talk" from Patrick Healy to domination diva "Sandra Clark".
Another chapter in "Female domination for male pleasure vs. the authentic Matriarchal movement, - what is the difference?"
I beg my confrere William Bond to make comments along the way.
Rasa: Speak to me, Mother God; let me channel You, what is the difference? As so many get tripped up along the way, this is so confusing to so many & takes our men up & down wrong paths.
MG: The way is obvious. For thousands of years, men & women worshipped a Mother God. William Bond with Pamela
Suffield
wrote "The Gospel of the Goddess," explaining her ways, different from the male God.
Now men instituted the Father God as the One to worship, not the Mother, thereby upsetting the entire order of things, putting upside down where women & men worship a male image & obey a male priesthood – all wrong.
William Bond: The One can only be created through pure, unconditional love, the unconditional love mothers give to their children.

This pure, unconditional love is not so easy for men to give, as they do not have such a powerful nurturing instinct as women have.

So the masculine One is a total impossibility, Oneness can only be achieved through the feminine.
Did man create a child? Or did woman? Woman is the egg, She is Life, She creates life, male is the sperm donor, giving his DNA to women TO REPRODUCE, sperm is not REPRODUCTIVE, it DIES BY ITSELF IN A PETRIE DISH, where under the same circumstances, the female egg begins to gestate, & can reproduce LIFE.
William Bond: There are animals who do not need males to keep on reproducing.

It could be scientifically possible today, for two women to produce a child without the need of a man.

This is because the sperm is only a DNA carrier, so it would be feasible for a doctor to take the DNA out of the egg of one woman and plant it in the egg of another woman to fertilize it.

But, the resulting child would always be female, as it wouldn't have any male genes in it.
That is part of the basis for a Mother God-image & a female priesthood, but there are other facets or nuances of this, to name a few, the female has, along with her creative ability, the power to nurture, the instinct to TAKE CARE OF PEOPLE – which William Bond & Rasa keep underscoring.
Now here, in a Patriarchal setting, along comes "femdom" & Rasa knows the game intimately FROM BEING IN THE BUSINESS FOR TEN YEARS.
The males who have been deprived of Mother Power – as in a Patriarchal setting this is TRUNCATED, DERAILED, MINIMIZED – women are LUCKY if they get to benevolently DOMINATE their children for the first five years – in truth – they never get to rule their children as even in the area of breastfeeding the child is ripped from her breast & big agriculture business takes over with rotten feeding formulas, & worse yet, unnecessary & dangerous vaccines, all intimacy & Power that the Mother should wield over baby, for his/her benefit, is DESTROYED.
Where does that leave men & women in this world? Suffering from ATTACHMENT DISORDER, & it manifests more negatively in the weaker male than the stronger female, the results of this being DEPRESSION, ANXIETY, SUICIDE/HOMICIDE (many times more prevalent in male than female), SUBSTANCE ABUSE, SEXUAL DYSFUNCTION, various forms of negativity such as self hate & despair.
In this suffering world, where males have had a financial advantage (due to institutionalized discrimination against females) over female they have come up with the bright idea like this,
"I will pay a woman not to be nice to me, but to show me her Power. This will REMIND ME OF MOTHER & THE MATERNAL POWER I HAVE LOST – this loss makes me feel deprived. Most women are TOO NICE & GIVE IN TO ME because I give them money. I will give money to a woman to specifically meet my needs in the Power dept., & I will TELL HER TO DO THE FOLLOWING"........(you fill in the blanks as far as what your needs/fetishes are.)
What is wrong with this picture?
·
The man is specifically telling the woman what to do, & in all or 99% of cases, he wants her to do certain things & fairly fast in order for him to "get off" or have an orgasm.
A woman has now become, instead of an object of respect, veneration & worship, a thing, an actor, an adult trade worker/therapist/prostitute to satisfy his orgasmic needs. (In some cases, the woman must go through activities that repulse, bore, disgust her, it is not WHAT SHE WANTS AS AN AUTONOMOUS BEING, SHE IS DOING IT FOR MONEY, NOT FOR HER PLEASURE & SHE MUST DO AS SHE IS TOLD.) He might go through a ritual of veneration or worship, in some cases, but this is far from the spiritual concept you would find IN A CHURCH.
William Bond. There is an old saying, "The hand that rocks the cradle rules the world".

This is because mothers have a far greater influence over their children, than what fathers do. So for alpha males to rule society, they had to undermine the power of mothers. As mothers still had a greater influence over their children than what the alpha rulers had.

This means that women in general had to be devalued.
Before the rise of patriarchy, everything to do with motherhood was considered to be sacred.

So that, menstruation, sexual intercourse, pregnancy, giving birth and even breast feeding was considered to be very holy.

Patriarchy attacked this and turned all aspects of motherhood into a shameful act, or a sin.

This means that a menstruating women instead of being seen as being very sacred was now seen as 'unclean'.

Sex was then turned into a 'sin', while mother had to hide themselves away when pregnant. It was even claimed that; "we are all born in sin, because we are born of women".

Even breast feeding was condemned, so that even now, women feel embarrassed to breast feed in public.


All this resulted in women losing their respect and confidence in themselves, to the degree her own children wouldn't take any notice of them, and the husband the sole authority in the household.

This then allowed alpha men to have the authority to rule society through a male god they had invented.
Rasa: OK Mother God, I understand. How do we proceed from there? What is the answer? How must we look at this picture of males wanting to be dominated - & females also want the return of female authority, how then, should men & women look upon women, their power, their love? How should men get their needs satisfied by female authority, how also should females restore their rightful respect for other women's power (which is the same need as males, only without the orgasm in most cases.)?
MG: What you, & William Bond, are trying to restore, is the ultimate power of women, their authority, their autonomy, their rightful rule over the planet, including the family or clan. This rulership has to have all the rights & benefits that back up authority, that is to say, the resources must be within her grasp – if males retain control over money (property, resources) it is difficult for women to wield power, as the withdrawal of this money (by not hiring women, firing them from jobs, preventing them from making money in business) keeps women from having the "freedom of speech & action" where they can function as AUTONOMOUS HUMAN BEINGS, WITH THE RIGHT TO THEIR OWN DESTINY, THEIR OWN DEFINITION OF WHO THEY ARE, WHAT THEY BELIEVE, & WHERE THEY & THEIR PROGENY ARE GOING.
Rasa: OK Mother God, I see. How do we get this started? I imagine the grass roots movement of women getting educated, the majority in higher learning now female, as well as more females of working age in the workplace than men of working age there, is getting us where we need to go. This will take time – what must we do in the interim to get this going?
MG: In the interim, everything that you do, every article, book, letter, conversation, propping up our beliefs, defending, defining the precepts & concepts of Mother God & female veneration, will get us farther down the road.
William Bond.

We have to accept the fact that the whole of society has been brainwashed by patriarchy for thousands of years.

So that people now firmly believe men have always ruled our world and always will.

This means that if Rasa Von Werder and I say that; "women should rule the world", people find it totally unacceptable, because it goes against everything that patriarchy has taught them.
Rasa: I imagine a storefront church, a beginning; myself inviting only females for safe space, prevent the males from interfering, blocking, derailing, being defensive (OMG that eternal cry, "I'm not like the other men – not all men are alike") where we can RELAX, BE OURSELVES, VENT WHAT WE LIKE, EXPRESS WHATEVER WE LIKE WITHOUT FEAR would be a marvelous beginning.
I know I can get THE NEWS to cover us, as well as other MAINSTREAM MEDIA if we do the deal with WOMEN ONLY because there has never been a church, that I know of, where women only were invited – the world is full of male-only churches, as the Muslim mosques, other churches, temples where women are SEGREGATED, as in Orthodox Judaism, the women have their own separate section, & in normal Christianity the women are no longer segregated but of course they are SECOND CLASS & must take a PSYCHOLOGICAL BACK SEAT to the men, their precepts, their rights, their ideas & agenda, WITH WOMEN HAVING NO VOICE OR DECISION MAKING PROCESS, THEY ARE NOT LEADERS IN CHRISTIANITY, ISLAM OR JUDAISM, NOR IN ANY OTHER PATRIARCHAL RELIGION.
But naturally, no sooner do we have a WOMAN-ONLY CHURCH WITH WOMAN LEADERS there will be an OUTCRY AS FAR AS JUPITER THAT WE ARE DISCRIMINATING, UNFAIR, BIASED, MEAN WITCHES WHO DO NOT LOVE OUR NEIGHBOR, OUR FELLOW MAN, & WE ARE CRUEL, NASTY, UNLOVING, UNGODLY BITCHES! – The message being that THEY CAN OUST US BUT WE CANNOT OUST THEM!
I am LAUGHING because I ALREADY KNOW the outcome of this. As soon as I am GATHERED with a bunch of women, usually STUDENTS, on the street, the pizza parlor, wherever, having a meaningful discussion THE MALES CANNOT WAIT TO BUD IN & THEY THEN WANT TO MANIPULATE THE CONVERSATION. If we have a church where both males & females can join, they will not be as excited as if it's FEMALES ONLY as whenever it's FEMALES ONLY they are ALARMED & THREATENED like,
"WHAT ARE THEY DOING WITHOUT US? THEY ARE GOING TO GET EMPOWERED & THEY ARE GOING TO PUSH US OUT, SO THAT WE CANNOT EXPLOIT & USE THEM, THEIR WORLD WILL NO LONGER BE CENTERED ON US, BUT AROUND THEIR OWN PRECEPTS, & THAT IS DEATH TO US!"
This is causing great laughter within me, Mother God, how do I proceed?
William Bond: Feminists back in the 1960s and 70s had this problem. In the spirit of sexual equality, they allowed men into their feminist meeting.

But they found that men had such a disrupted influence, that most feminist groups ended up having to ban men.

This shows us the problem of trying to create a society of sexual equality, because men won't allow it.

Sexual equality might be acceptable for women but men have real problems with it. Men find it acceptable for men to rule the world or women to rule the world, but sexual equality is too difficult for them.
Such a church, even on the smallest scale, would cost me a great deal of money & I do not project anyone else helping in any way except for little things. It will be me, me, me as usual, me paying the rent & bills, me doing the sermons, me providing refreshments (I have done this before in a storefront church) – Me then writing the Catechism, me getting the media attention, me walking up & down the street with megaphone preaching, to get converts, etc.
Do you & I want me to do this? I have already built a church on the internet, Woman Thou Art God, & the Church of the Mystical Matriarchy on the Kellie site. What does Mother God want, what will make us happy?
MG: Hold it as a POSSIBILITY. Start the megaphone preaching & see how it goes from there. Maybe you will get a quorum of women interested – that would be a beginning.
William Bond; I think a lone women bravely standing up and saying clearly, "women should rule the world" will inspire many women.

They may be frightened of this at first, but in time some of the more braver women will want to support what Rasa Von Werder is doing.

Because I believe this is what many women want, but don't believe it possible.
Meanwhile, you wanted me to address the difference between femdom & what you are doing. In femdom, it's women prostituting themselves to men, call it therapy, but it's all about them, isn't it? When women have more money they don't have to do this, & they can call the shots, they can dominate on their terms, telling the men WHAT THEY WANT. The men then have to "jump through hoops" or act the way the woman demands or requests – it does not have to be sexual.
As you/we predicted in your article, The Future of Male-Female Relationships, males will have to adjust & develop along new lines entirely. They will have to LEARN TO TALK, BE CHARMING, AMENABLE, HAVE NICE PERSONALITIES, DEFERENTIAL, KOW TOW TO WOMEN – find out all that is pleasing to them & do it. Of course, if there is anything the women want, they will tell the men, & the males will have to oblige, or else, they will not be considered good companions.
The males who want to retain the arrogance, cold heartedness & egotism that males are now taught in Patriarchy, will get the dregs, the bottom of the barrel of women, the ones who can't get a man. These will be losers, the ugliest, the fattest, having the least self respect or esteem, the least confidence & self love. That's what they will be left with, all the strong women will get submissive males.
William Bond:

Patriarchy only teaches men to love and worship the alpha males, who rule our world.

In a matriarchal world men will be taught how to love and worship women.
Rasa: Could you present me the definition of what I am doing compared to the femdom scene as depicted here by "Sandra Clark" & numerous others, all over the internet? There are so many of them, & so few of me, in fact, many who are in the Feminine Divine/Goddess realm are dreamers – I have observed them. They are floating around in outer space with fantasies & delusions of grandeur & egotistical greatness – I don't know what's wrong with them, but they aren't going anywhere. They cannot kick down iron doors.
MG: Here is the last word. You were sent by a Higher Power, you appeared to empower women, so you are good at it. A woman who is not empowered cannot empower others, feel sorry for them; don't be mad, they cannot do what they are not fit to do, just let it go. Look at them as your children, smile, don't get mad when they say & do impertinent things toward you.
They brag about themselves because they are trying to build themselves up, usually to a bunch of submissive males who have nowhere else to go, they want to be big frogs in small ponds. Let them be big frogs in small ponds, you are a big alligator in the ocean, do what you know best, you are good at doing great things, a five-year old girl cannot do what a fifty year old woman does. When a mean, hard task is at hand, you are eager to run the track, they run the other way. When you kick down the iron door, they walk through & forget you existed. Do not worry about them, do everything for yourself, because you want to do it, live for your own pleasure which is God's, you are God, you are Rasa, you are the Mother, it's all One for you, it's not one for them, they work on other levels, do not concern yourself over what they do, just educate & lead, that is the final word, go forth.
William Bond: Patriarchy teaches us that it is wrong for women to love themselves.

So they claim women should only love their husbands and children and women and are make to feel guilty if they puts themselves before their families.

What patriarchal doesn't teach us, is that a truly balanced person can both love themselves and love others at the same time.

We are used to seeing men who clearly love themselves, but we are not used to seeing women, who can do the same.

So it is not surprising that many women have problems with observing a woman who is defying everything they have been taught to be true, by patriarchy.
Rasa Von Werder.....
Nov. 1, 2011
```````````````````````````````````````````````````````````````````
from Rasa Von Werder, Nov. 1, 2011
THE FUTURE IS WOMEN, INVEST IN THE FUTURE...DID YOU KNOW THAT MALES ARE GOING EXTINCT? THERE WILL BE NO MORE HUMAN MALES BY AROUND 100,000 YEARS, THE Y CHROMOSOME IS CRUMBLING, IT CANNOT REPAIR ITSELF. WOMAN WILL REPRODUCE WITHOUT MEN BY SEVERAL METHODS, PARTHENOGENESIS BEING ONE, SPERM BANKS ANOTHER, LAST BUT NOT LEAST, 23 CHROMOSOMES TAKEN FROM ONE EGG, PUT INTO ANOTHER, YOU HAVE TWO-WOMAN PARENTING.
MEANWHILE, MEN ARE GROWING WEAKER GENETICALLY, BIOLOGICALLY, THEIR FEROCITY, AGGRESSION, VIOLENCE IS BOUND TO STOP ONCE THEIR HEALTH HAS HIT THE SKIDS, THAT MEANS RELIEF FOR MOTHER EARTH & ALL HER INHABITANTS.
Meanwhile, as Matriarchy, woman power is returning, women have to gather, put their investments into themselves, not the dying males, they have to look ahead. What kind of religions will women have, what kind of Temples/Domes, Churches will they build? What kind of priesthood? What kind of medical science – academia, social order & culture?
Nothing will be like what males have done, there will be no war, it will be illegal & unnecessary, women negotiate, they are not destructive.
Imagine what the world is moving into & what it will be like when women rule, within six generations, & eventually only women will live...what will it be like?
Adolescent girls are uniquely capable of raising the standard of living in the developing world. It's been shown: She will reinvest her income and knowledge back into her family and her community. As an educated mother, an active citizen, an ambitious entrepreneur or prepared employee, a girl will break the cycle of intergenerational poverty.

Yet, despite her proven potential, she is more likely to be uneducated, a child bride and exposed to HIV/AIDS. Less than two cents of every international development dollar is directed to her.

Today, the world is starting to see that the cost of excluding a girl doesn't just impact her. It affects everyone. And it needs to change.

600 million adolescent girls in developing countries need your support and your voice. Take the pledge today: Commit to spread the word, educate your friends and family and show the world the importance of investing in girls.
``````````````````````````````````````````````````````````````````````````````````````
RASA'S DEVOTEES – THEY BELIEVE IN HER AS SPIRITUAL LEADER, AVATAR, HER DISCIPLES
SPIRITUAL YOGA GROUP – "TASTING SUGAR" - DUALITY VS NONDUALITY – RASA IS CHIEF GURU, SHE IS IN "NONDUALITY" TODAY
RASA SAW GOD FACE TO FACE "I SAW GOD & LIVED"
Ozay Rinpoche & Guru Ahiranta chose to put Rasa on this group alongside 2 very great gurus!
This is her work when known as KELLIE EVERTS...make sure you look under the link called "humanitarian work" and world publicity, hard news – this is proof of her determination & persistence in helping others, a part collected here; she was featured thousands of times for print, film and TV, in languages all over the world.
Her two sites (Kellie Everts & Woman Thou Art God) are now getting a million hits a month
"Adam's Curse – a Future Without Men" Dr. Bryan Sykes
Dr. JAMES W. PRESCOTT – the origins of peace & violence – proving that truncated intimacy between Mother & babe causes violence!
DR. JOHN BOWLBY ON ATTACHMENT DISORDER
EVIL OF MALE DOMINATION PORNO
best interview I've ever seen that explains the pitfalls of male domination pornography! It dehumanizes women, desensitizes men - destroys relationships - males begin to access body-punishing (of women) pornography at age eleven - neither women nor men are seen as human beings - males become addicted - they cannot function sexually any more in a normal fashion, can only respond to the pornography - destroys their intimacy with women


http://english.aljazeera.net/programmes/rizkhan/2010/09/2010915633660183.html
"Sex at Dawn - The Prehistoric Origins of Modern Sexuality"
by Christopher Ryan & Cacilda Jetha is a pivotal book just on the market (2011), which proves that MONOGAMY (one partner) IS NOT THE NORM.